ABOUT US
Legal Centre is a British law firm, located in the United Kingdom.
Lawyers at the Legal Centre who are helping and representing you:
Anton Koval, MA, MCIL, JCWI, ILPA, LSC - advocate and partner of the firm - www.antonkoval.com

Julia Koval, MA, JCWI, ILPA - immigration lawyer and partner of the firm
How we can help you
In most cases we can offer you the following 3 options: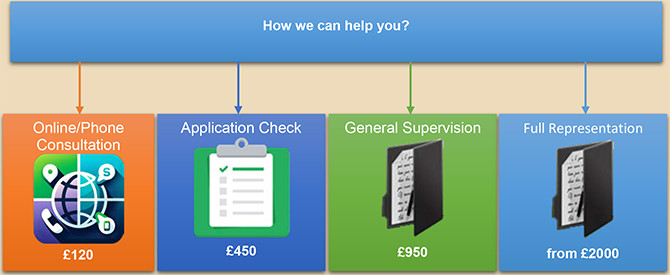 One-off Skype, phone or office consultation, when you can discuss in a pace and time suitable for you all the relevant immigration issues. This service suits those who have various questions about their potential immigration case and wish to discuss the merits of that case, what application form to use, which supporting documents to enclose etc. The cost for this one-off consultation is usually £75.00
Application pre-submission verification check. This service suits those who intend to lodge their applications themselves but are in doubt about certain parts of their application or court bundle and want their bundle to be checked and verified by the experienced expert lawyer advocate. We can check your application bundle and provide comments on the relevant issues. This service usually costs £350.00.
Full engagement and representation. This service suits those who value their time, are unsure about their ability to prepare and submit a valid application or court bundle or whose application was previously refused. In most cases we can offer a fixed fee. We will be representing and advising you on all the relevant steps in order to prepare and lodge your immigration application or court bundle in the best possible manner. We will also be communicating with the Home Office, Immigration Service, Visa Application Centre, various courts (depending on the type of the application). Our fees for this service vary and the final fee depends on the difficulty of your case.
Legal Centre is a professional law organization specializing in all UK Immigration issues. We strive to be different by having a particularly friendly culture and by being open and transparent in the way we work with you.
We pride ourselves on being approachable and accessible and being able to explain information in a clear and honest way. Our website seeks to explain who we are and how we can help you – whatever needs you may have. We promise to make every effort to help you make your dreams come true. However, if we are unable to help you, we will tell you straightaway.
Our work has changed many lives for the better. Our clients tell us that they appreciate our personal touch and the way we have handled often complex and sensitive matters. We specialize in difficult UK immigration law related cases, such as visa refusals, out-of-rules applications, asylum and immigration appeals, humanitarian and discretionary applications and bail.
We also provide a wide range of Immigration, Business Migration, Education, Business services to individuals and businesses.
As an organization we are enthusiastic and committed to Immigration Law. We aim to provide expert legal advice in a professional way every time. Our clients often comment not only on our responsiveness and our efficiency, but also on our friendly and personal approach to work.
About the Website
The information materials and opinions contained on this website are for general information purposes only and are not intended to constitute legal or other professional advice, and should not be relied on or treated as a substitute for specific advice relevant to particular circumstances. Neither Legal Centre nor any other entity associated with it accepts any responsibility for any loss which may arise from reliance on information or materials published on this website.